LUNA X PLUS Pure VibeSound cosmetic bed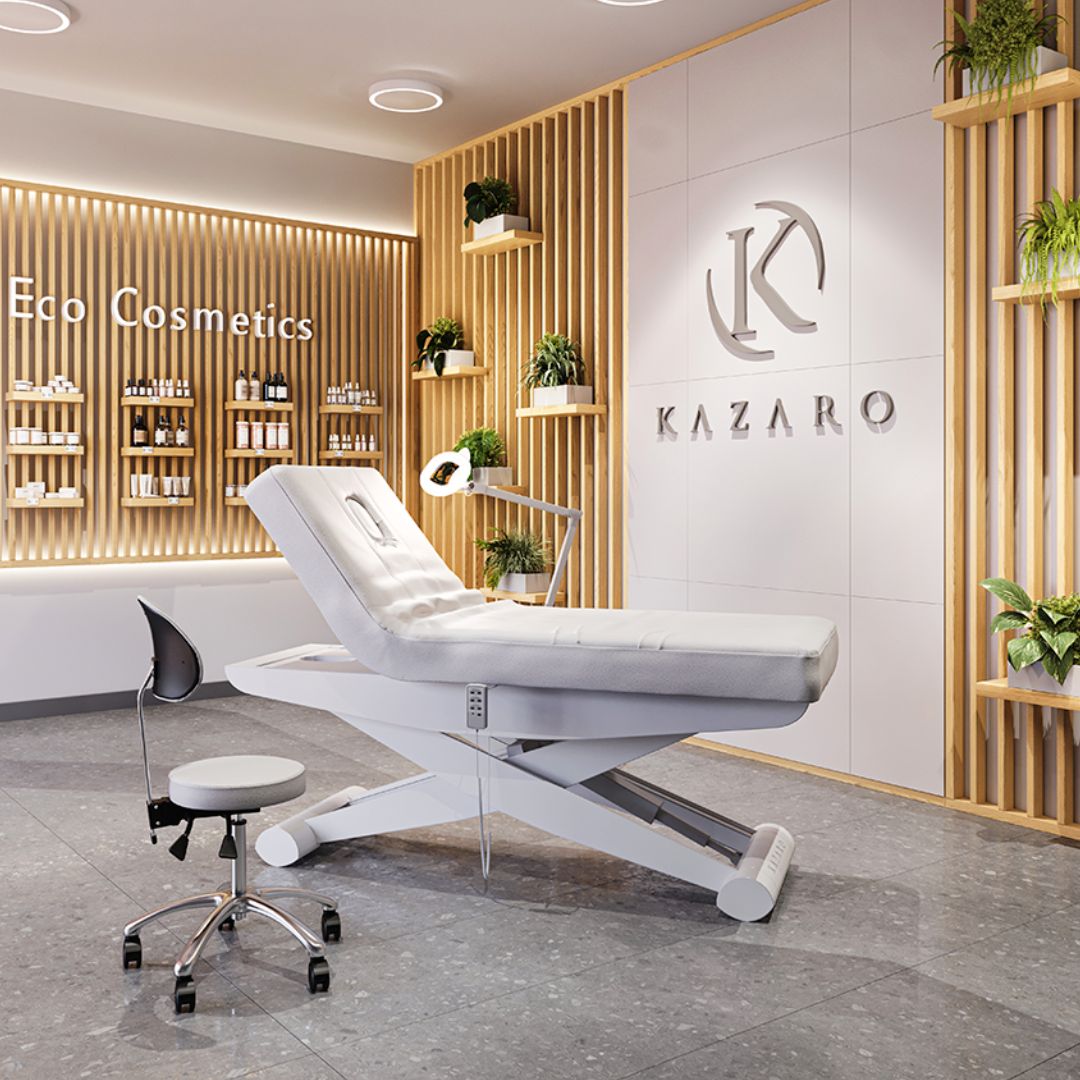 LUNA X Plus Pure cosmetic bed with Vibesound
Luna X Plus Pure cosmetic bed is the latest model of cosmetic bed in Kazaro's offer.
The Luna X VibeSound cosmetic bed makes it possible to introduce new services to spa centers. The use of acoustic vibration in beds aimed at spas brings with it many opportunities to expand the offerings of these places. Vibroacoustic Therapy uses sound waves in the form of vibration acting directly on the body by vibrating the body's bodily fluids, which translates into better circulation, oxygenation, deoxygenation as well as calming the nervous system giving a measurable effect in improving the health of patients. The action of sound waves has so far been used only in physical therapy centers, but is now becoming the answer to the need for holistic care in offices or spa centers.
Applications of the LUNA X Plus Pure cosmetic bed
-massage parlors,
-beauty salons,
-beauty salons,
-Spa.
Such a wide application is possible because Luna X Plus Pure is equipped with three electric actuators, which provide simple adjustment in the following planes.
Adjustability:
-bed height adjustment,
-adjustment of the backrest,
-adjustment of the footrest.
Information about LUNA X Plus Pure massage bed
Controlled by a handheld remote control.
The bed has an innovative and comfortable heating function. Heating makes the heat spread over the entire surface of the bed, and the client does not feel cold or chilly during the treatment being performed. This function can be easily turned on or off from the remote control.
The X-shaped base fits perfectly into the oriental decor.
The outer part of the bed base is covered with high-quality natural wood plywood in light oak color.
The soft and pleasant covering of the chair allows you to fully relax and give yourself to a professional without any worries. The material used is high-quality skai, which is easy to clean. The overall mattress gives the highest comfort to the patient during the procedure.
The bed is equipped with a hanger for disposable paper. A novelty in the bed is the installed LED lighting controlled by a separate remote control, which illuminates the bed base. It is possible to change the intensity of the light and its color.
Additional service:
It is possible to order a chair with upholstery with medical hygienic certificate.
| | |
| --- | --- |
| Length: | 198 cm |
| Width: | 76 cm |
| Height: | 62-96 cm |
| Length of base: | 126-144 cm |
| Width of base: | 63 cm |
| *Parameters may contain minimal differences: | the limit of error is 2%. |