Profiline -Vacum, cavitation, RF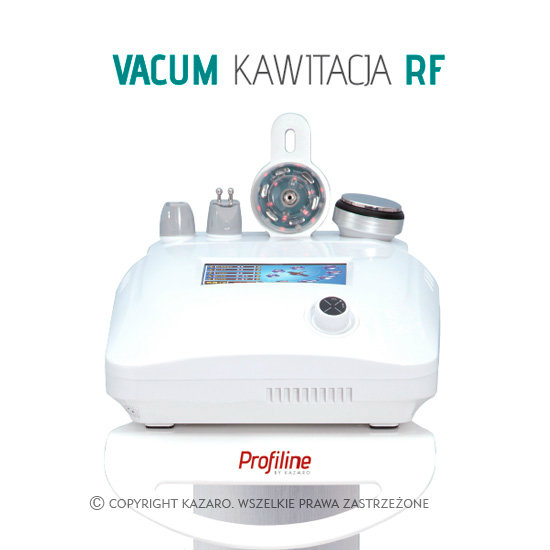 1533,08 EUR 2299,61 EUR
Lowest price in the last 30 days: 2299,61 EUR
This is a product for professional use - Use it according to the instructions for use or the label
Profiline -Vacum, cavitation, RF
THE DEVICE HAS FOUR TREATMENT HEADS:
1. VACUM WITH INFRARED AND RF FOR THE BODY
2. CAVITATION LIPOSUCTION,
3. RF RADIOFREQUENCY WITH VACUM FOR THE FACE
4. BI POLAR RADIO WAVES - FOR THE FACE
FUNCTION OF RF
RF by delivering thermal energy deep into the subcutaneous tissue, so that the collagen fibers are heated, which causes their immediate contraction and tightening, which contributes to increased regeneration of skin fibers. There is an acceleration of the elimination of toxins from the organism by lymphatic drainage occurring in the tissues.
The treatment increases the density, elasticity, skin tone, and the oval of the face and skin color is improved.
The multipolar RF system generates columnar heat distribution in the subcutaneous tissue and helps release triglycerides contained in fat cells. The triglyceride molecules are broken down into glycerol and fatty acids, which are then removed from the body. An important enzyme called hormone-sensitive lipase (HSL) catalyzes this reaction. Through this process, we achieve a slimming and sculpting effect on the body.
INFRARED FUNCTION
For an even better effect, the RF heads are equipped with red light in the form of LEDs. Infrared radiation causes an increase in temperature in the tissues, resulting in their faster metabolism. The activity of healthy skin cells is stimulated, fibroblasts are stimulated to produce collagen, giving the skin a fresh and youthful appearance.
VACUM FUNCTION
In addition to warming with radio waves, the device also uses vacuum. Dermo massage promotes the activation of the venous and lymphatic systems, stimulates lymph and blood flow, elimination of toxins, increasing collagen and elastin production. The treatment does not cause damage to other tissues, blood vessels and skin. The treatment has a draining and tightening effect, visibly reduces cellulite and shapes the silhouette. The skin becomes firm and tightened.
ULTRADISCON KAWITATION 40 Khz
Ultrasonic cavitation involves the action of an external source of ultrasound, with a specific power directly on subcutaneous adipose tissue, in which the phenomenon of cavitation occurs. It consists in the formation of pulsating vacuum bubbles in the liquid, filled with saturated vapor or gas dissolved in the liquid, which appear as a result of local disruption of the medium under the influence of high tensile forces. The fat takes on a liquid state of aggregation
and is expelled by metabolism, which reduces the number of fat cells, allowing the best fat reduction effect to be achieved. It is also an excellent method of combating the cellulite hated by all women. The immediate cause of cellulite is reduced, allowing us to get rid of "orange peel" at any stage.
DEVICE APPLICATION:
FACE
-reduction of "bags" under the eyes and "crow's feet",
-reduction of wrinkles,
-rejuvenation, skin nourishment,
-improving the appearance of the skin,
-improving skin firmness,
-shrinking pores,
-improving skin tone,
-lifting the facial oval and chin,
BODY
-fat reduction,
-reduction of cellulite,
-lifting,
-body contouring,
-body firming and elimination of sagging,
-improving the appearance of the skin,
-smoothing of wrinkles,
| | |
| --- | --- |
| Cavitation frequency: | 40KHz |
| Cavitation programs: | 5 |
| RF Frequency: | 2MHz/4MHz |
| RF programs: | 6 |
| Types of RF: | bipolar and multipolar |
| Vacuum pressure: | 80kpa |
| Infrared: | 650nm |
| Display: | touchscreen, LCD 7'' |
| Power: | 165W |
| Power supply: | 240V, 50-60Hz |